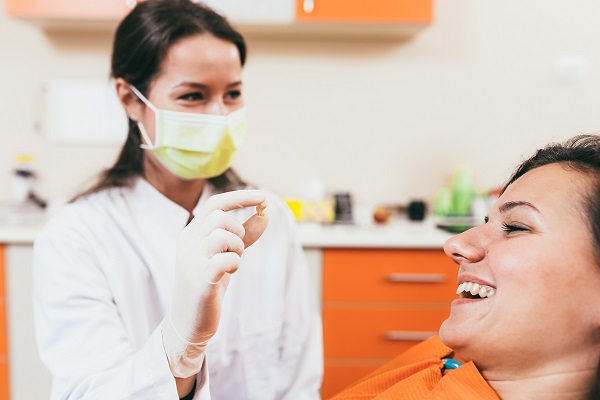 A wisdom tooth extraction is necessary if the wisdom teeth are causing problems with the patient's oral health, function or the ability to correct their teeth alignment. Some dentists may recommend wisdom tooth extraction as a precautionary treatment to ensure that the wisdom teeth do not cause issues in the future.
When wisdom tooth removal is necessary
The most notable times when wisdom tooth extraction is necessary include when one or more of the teeth become impacted or if they pose an oral health risk, bite complications, or trouble eating or for orthodontic considerations. The following is a review of why it is necessary in each case and what the benefits are of having the wisdom teeth removed when necessary.
Impacted wisdom teeth
Wisdom teeth may require removal if they are impacted. Partially or fully impacted teeth can cause oral health concerns. Specifically, if they partially emerge, then they may cause the gums to open and food and bacteria can become trapped, increasing the risk of an oral infection and dental cavities. Fully impacted teeth may grow in sideways and cause crowding issues, which may make orthodontic treatment more of a challenge. Subsequently, many dentists and orthodontists recommend removing wisdom teeth to prevent issues later.
Bite complications
Wisdom teeth can sometimes cause functional issues and make eating more of a challenge. In some instances, the wisdom teeth may constantly press on the gums, leading to gum discomfort and gum swelling. Wisdom teeth sometimes push against the molars as well, leading to increased pressure and more challenges while eating and brushing teeth. If bite complications develop as a result of fully emerged wisdom teeth, then they may need extraction.
Increased risk of oral infection
Bite complications can create issues eating, and food may become trapped in pockets that form in the gums. When this occurs, the risk of an infection is much higher. Many patients experience gum swelling, gum sensitivity, swollen lymph nodes and a sore throat before they have their wisdom teeth extracted. Subsequently, if the dentist feels that the wisdom teeth may lead to a higher risk of an oral infection, they are likely to recommend removal.
Orthodontic considerations
Orthodontic treatment involves moving teeth into a more ideal alignment. One of the primary causes of orthodontic-related concerns is overcrowding. The existence and growth of wisdom teeth can make overcrowding worse, as they take up more space in the jaw. Subsequently, dentists often recommend wisdom tooth extraction to one or more wisdom teeth if they do not allow teeth to properly shift into an ideal alignment during orthodontic treatment. The extraction takes place at the beginning of treatment, before the braces or clear aligners are worn.
Find out more information about wisdom tooth extraction
If you feel that you may need one or more wisdom teeth extracted for any reason, then give us a call to arrange a consultation visit. We are glad to answer your questions, and our friendly team can guide you through each step of the process to ensure that you are comfortable and safe throughout treatment.
Are you considering wisdom tooth extraction in the Lindsay area? Get more information at https://lindsayfamilydental.com.
Check out what others are saying about our dental services on Yelp: Wisdom Teeth Extraction in Lindsay, CA.
---
Related Posts
May 30, 2019
When describing the exciting highlights of your day, a tooth extraction will probably not come close to the top of the list. Having a tooth extracted is never a pleasurable experience, but the procedure is …