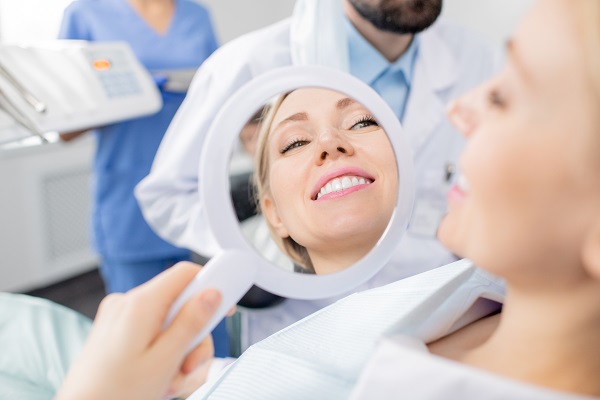 A dental cleaning is a procedure that helps with the routine maintenance of teeth. Patients who practice good oral habits see their dentists every six months. During these routine appointments, a dentist adds teeth cleaning to their to-do list.
Not all dental cleanings are the same. Some patients may have oral health issues that require a more aggressive form of teeth cleaning. In such cases, dental cleaning becomes a corrective procedure instead of a preventative one. This underscores the need to be proactive about professional dental cleaning.
The importance of professional dental cleaning
Dentists recommend that their patients brush their teeth at least twice a day. They also advise their patients to brush for two minutes and floss their teeth daily. Good dental hygiene aims to reach all surfaces of the teeth to prevent plaque buildup.
However, the surfaces of some teeth are hard to reach, and they often go unattended for extended periods. This causes plaque buildup that is best removed by a professional dental cleaning. Depending on the oral health needs of an individual, there are different types of teeth cleaning procedures that a dentist will recommend.
Types of dental cleaning procedures and their uses
The type of cleaning a dentist recommends will depend on the state of a patient's teeth and gums. It may also depend on the systemic health of a patient. Types of dental cleaning procedures include:
1. Regular (prophylaxis) dental cleaning
The term prophylaxis points to a preventative measure, which is what standard dental cleaning is. This is the type of teeth cleaning that a dentist performs during a routine dental checkup. As a preventative procedure that maintains oral health, regular teeth cleanings are for patients in good oral health. Regular dental cleanings remove plaque buildup from the tooth structures that sit above the gumline. It is a process that involves:
A visual exam
Scaling
Polishing
Fluoride treatment
The procedure removes plaque and stains while adding a new layer of minerals to the enamel. It takes about an hour from start to finish.
2. Scaling and root planing (SRP)
Regular dental cleaning only targets the tooth structures that sit above the gumline. Scaling and root planing target the base of the teeth, the gum pockets and the tooth roots. This means that the procedure is a little more invasive than prophylaxis cleaning.
A dentist will only recommend scaling and root planing if their patient has extensive plaque and tartar buildup. Chances are that such a patient also suffers from mild or moderate gum disease. For patients with gum disease, scaling and root planing is a process that requires several sessions in the dentist's chair. This brings us to the next aspect of teeth cleaning.
3. Periodontal maintenance
This is the continuous monitoring and maintenance of a patient's oral health. Dentists recommend this treatment plan for people who suffer from some form of gum disease. They may also recommend it to a person with systemic health issues that affect their oral health.
Periodontal maintenance involves dental appointments that take place weeks apart. The dentist will use these appointments to check on the health of their patient's teeth. When necessary, the dentist will perform standard or deep cleaning. Or the dentist may perform scaling and root planing.
4. Gross debridement (deep cleaning)
This procedure is geared towards patients who have a large and widespread buildup of plaque. A good candidate for this procedure is a person with lax oral hygiene who rarely gets professional dental cleanings.
A dentist usually performs gross debridement as part of a larger treatment plan. By removing a large coating of plaque and tartar, the dentist can do an accurate visual exam of their patient's teeth and gums.
You can keep it simple
Our general dentist will take good care of your teeth if they need to be cleaned. Call or visit our Lindsay clinic to set up an appointment.
Request an appointment here: https://lindsayfamilydental.com or call Lindsay Family Dental at (559) 425-1120 for an appointment in our Lindsay office.
Check out what others are saying about our dental services on Yelp: Dental Cleaning and Examinations in Lindsay, CA.
---
Related Posts
December 7, 2022
A dental deep cleaning is an in-depth cleaning procedure that is typically done by a dentist who offers periodontal services. These cleanings are called "deep cleanings" because they go much deeper beneath …